Our next project is The Study Room with Home Library in the private house. This is Study Room which is located in the southwest corner of the second floor of the house. This gorgeous room is designed in traditional English style. The study room of the house was reserved for the use as the private office and family reading room. Also, this room is to operate a home business and conducting of business meetings etc.
The Library design (including an office space) is not only a functional space, but also a great help for those studying and working from home. To us, a home library is a room which design, purpose, and functionality are devoted to books first and foremost, with built-in bookcases that grant permanence and prominence to the placement of 'knowledge' in the room.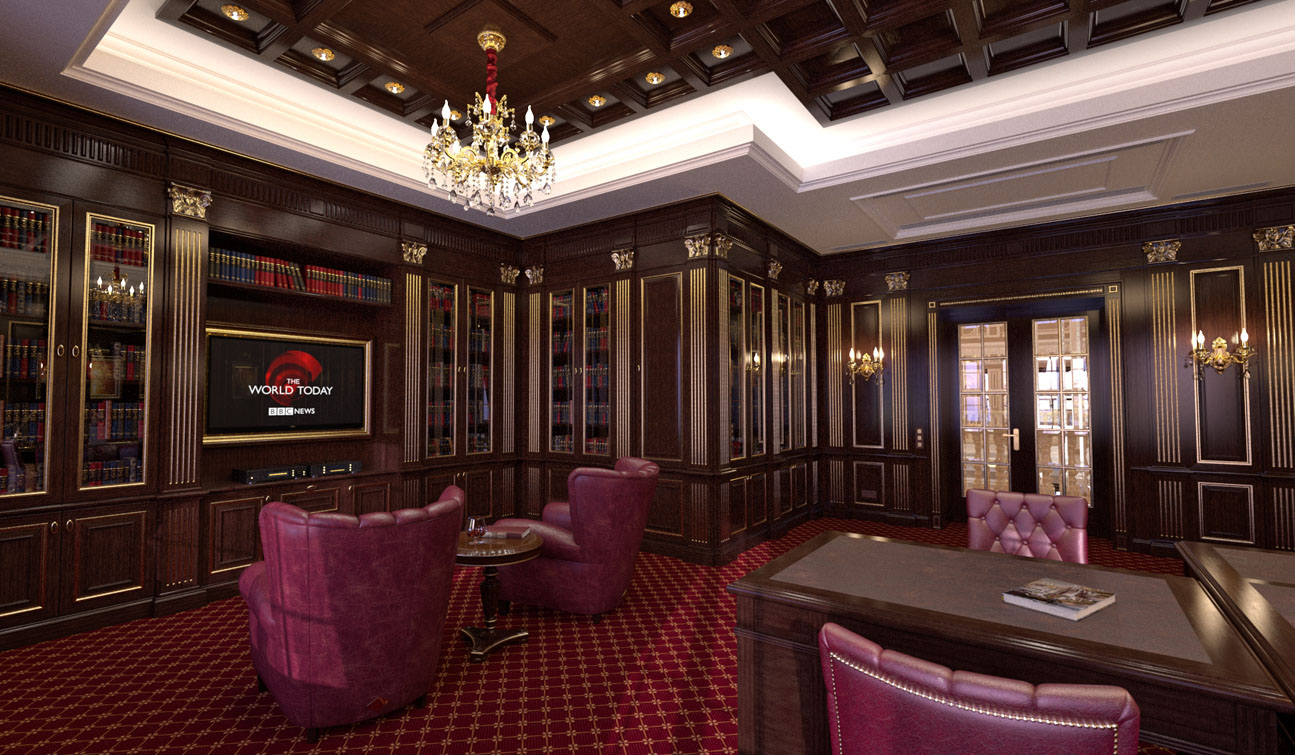 This Study Room and Library ensures not only uniqueness and functionality within a given space, but also the aesthetic pleasure that comes from hand-made details. This cozy family tradition established as a fortune that transfer experience from generation to generation and within the whole house shows not only prestige, but nobility of owner.
There is enough room for bookshelves, a pair individual armchairs and a triple of cabinet chairs, designed for great comfort, some specific lighting (reading lamps, wall sconces, and pretty chandeliers) as well as an antique desk. The desk completely matches the library decoration classic design style. This traditional classic involves wood-panels, fine luxury carpets, as well as quilted leather furniture in crimson and purple shades.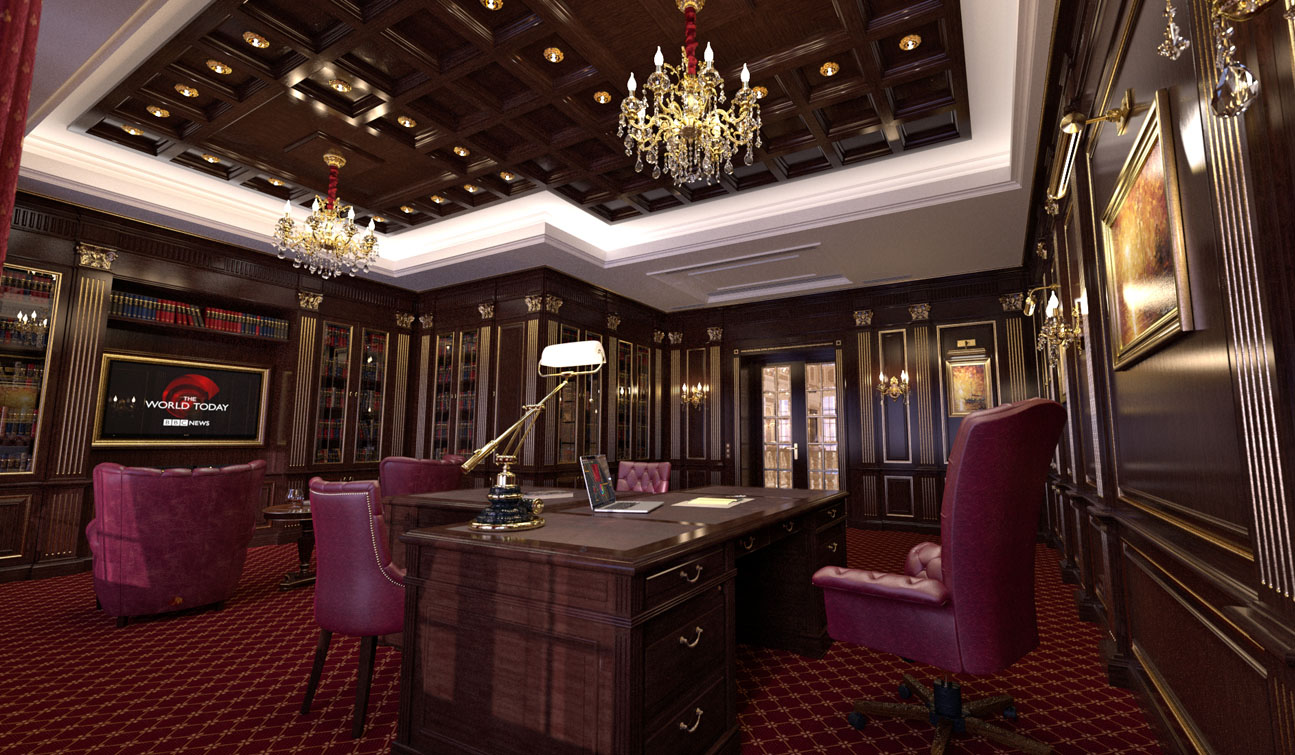 The whole classic atmosphere in English study room enriched with hand-made carvings and gold foil finishing, for instance, the desk top is finished with the high quality veneers and inlays mahogany. As for the floor covering we have chosen a high-quality fine carpet by Halbmond Teppichwerke GmbH which is burgundy-colored with a classical pattern. Therefore, showcasing the mix of deep warm colors, this home library and office boast a welcoming atmosphere.
Moreover, we took advantage of the wood ceilings in the library room, adding architectural interest with a coffered ceiling solution. Its strong grid pattern is combined by the forms of wall panels and library cabinets. Bespoke, cabinets and fully paneled walls in combination with the classic furniture is a successful example of adding high-class and sophistication to this 'reading and writing' space.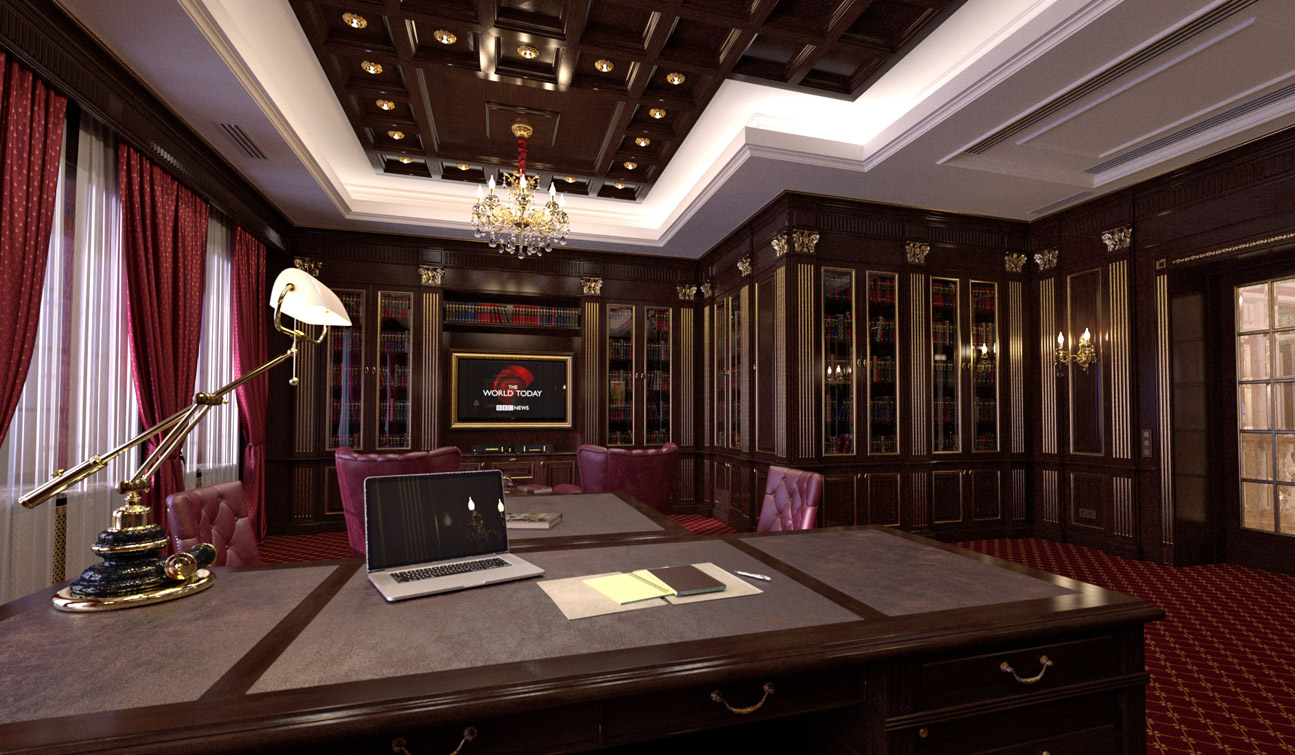 The lighting in the study room should be classic-alike, however the usability and functionality matter the most. In order to create a beautiful and functional lighting, we apply a set of various light sources. There is the general illumination of a ceiling by the linear LED lamps, recessed ceiling spotlights, both central chandeliers and wall lamps, and of course, a desk lamp. In the interior of this Study Room we used a pair of luxury Osgona Antica Bronze chandeliers and several wall lamps. All lights perfectly coincide with the color scheme and the overall décor in the room.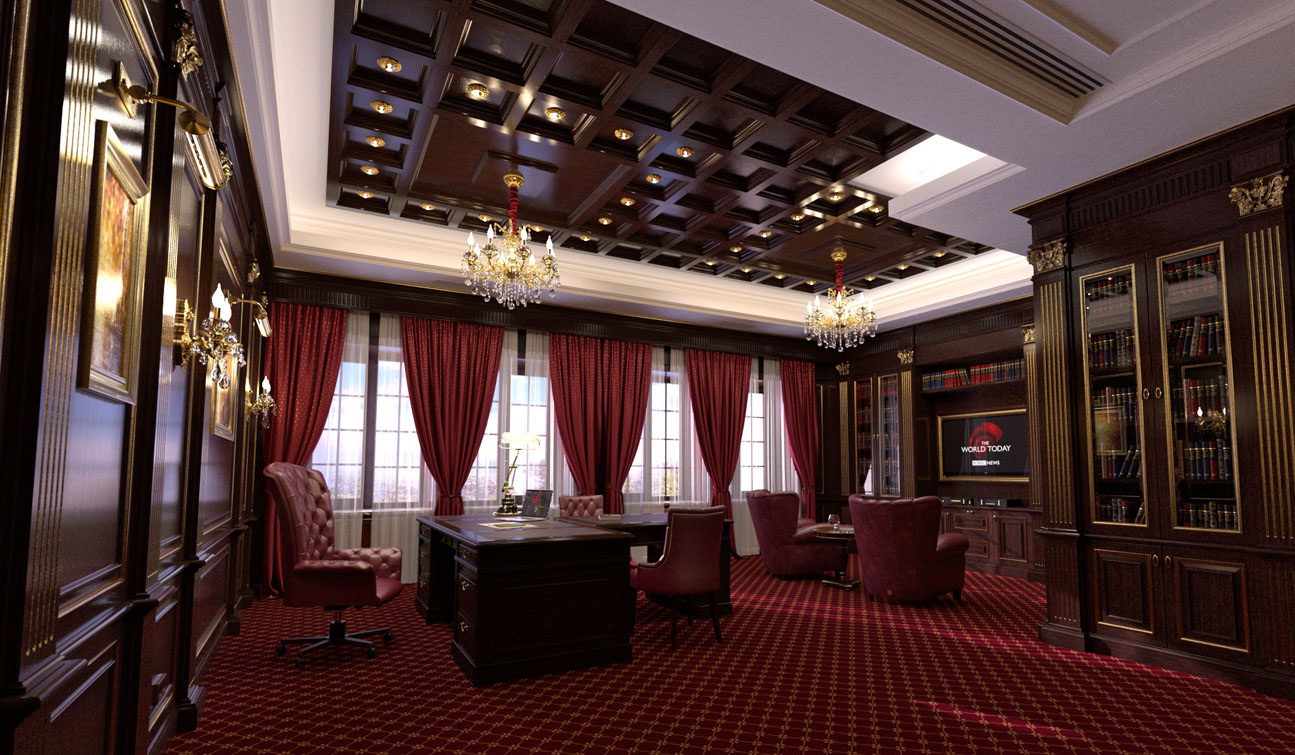 It tells by itself, not withdrawing the wealth highlight, owning a home library conjures up feelings of excitement as well as promises of comfort, privacy and growth. Everything that brings joy to the soul, knowledge to the mind and vivacity to the body is worth investing in it. As soon as we enter in this classic home library, we bask in the ambiance of this promise of adventures, romance and transcendence. The dedicated space in this house is the fantastic realm of one's imagination.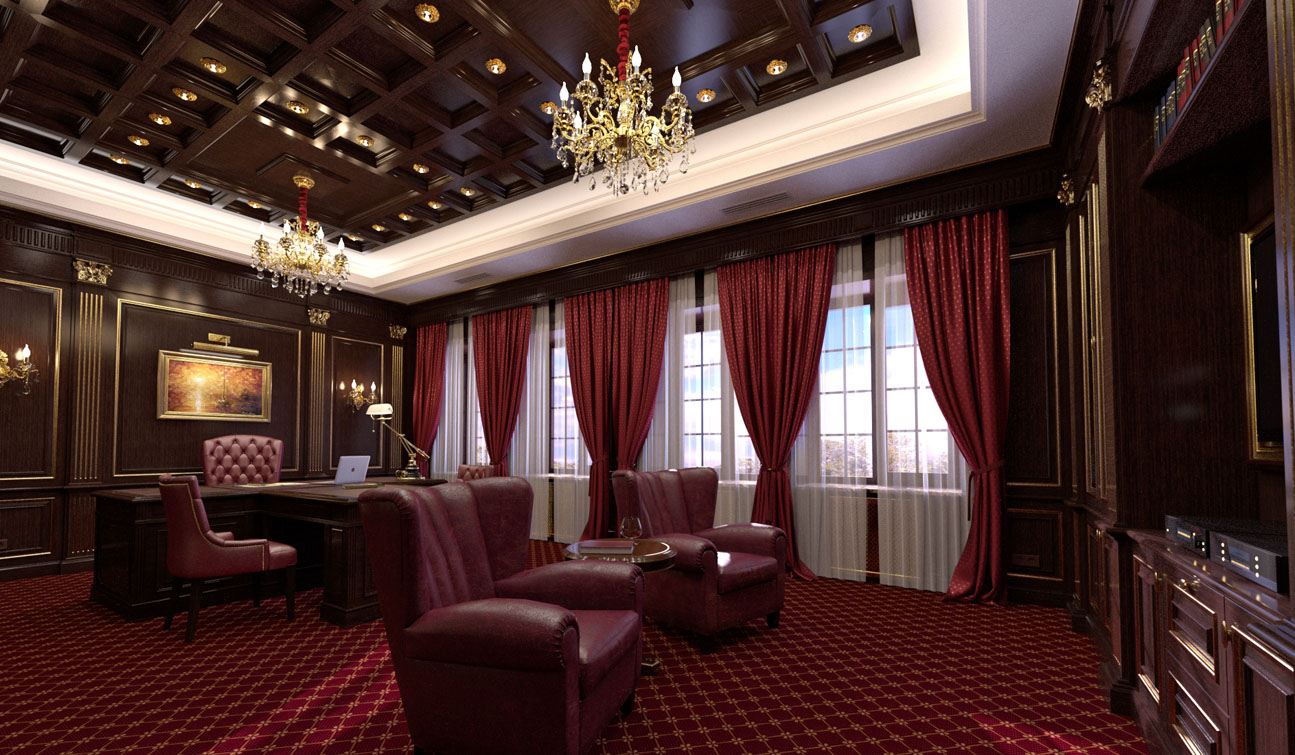 Author of the project - architect, interior designer Victor Kucherenko.