This traditional Turkish Hammam with a hint of modern touch is a part of a Luxury Home SPA in the Residence. The Hammam interior design combines fine traditions of the East, the possibilities of new technologies and our original vision and ideas. Delightful decorations fill the interior features with a romantic mood. This Hammam interior is accomplished with original architectural solutions.
The main feature of the Hammam is the comfortable climate. The Turkish steam room is a combination of moderate temperature condition (to +55 °C) and high humidity. The use of steam generators in a hammam allows regulating humidity by creating small dispersive steam usually sprinkled with natural oils, which is healthy to breathe in. The range of the recommended temperature in the Turkish bath is fluctuating from 30 to 55 degrees that are ideally suited for people, who are not comfortable with the high temperatures. The equipment installed in the neighboring technical room allows warming up benches, walls, floors, and other necessary elements while applying individual control of temperatures to each heated surface.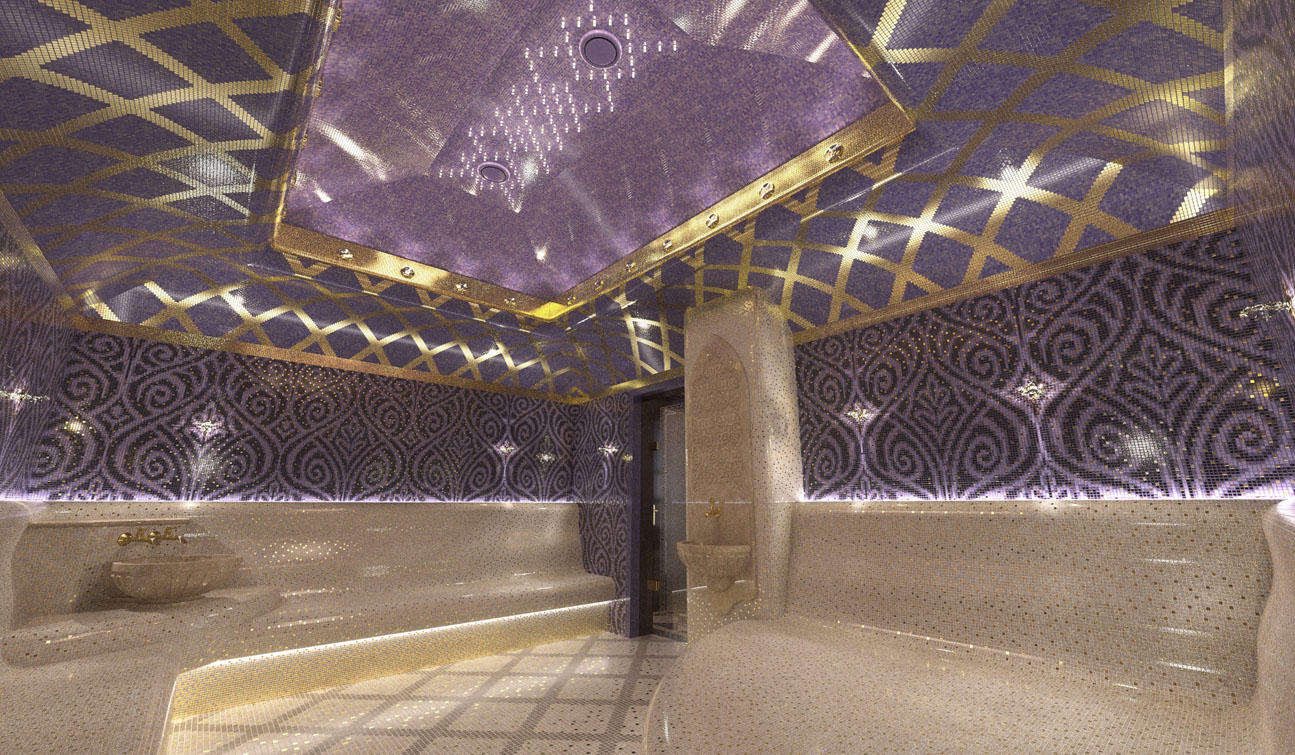 The heat circulation in a sweating room is one of the most important components of proper hammam functioning. The circulation of heat in the hammam is necessarily balanced, this is achieved through mechanical, natural and mixed air circulation. Also, vaulted ceiling in boors is necessary for the correct air circulation and the condensate running-off.
The aesthetic lighting, with its enchanted game of lights, is vital to the overall effect of the luxury hammam interior design. The lighting in hammam has to be soft, promoting a condition of pleasant relaxation. Thus, to create beautiful and functional lighting we apply a set of various light sources. There are LED backlighting, ceiling recessed spotlights, fiber-optical ceiling by Cariitt Crystal lamps in the form of an east ornament and fiber-optical wall lamps by Cariitti Kihla.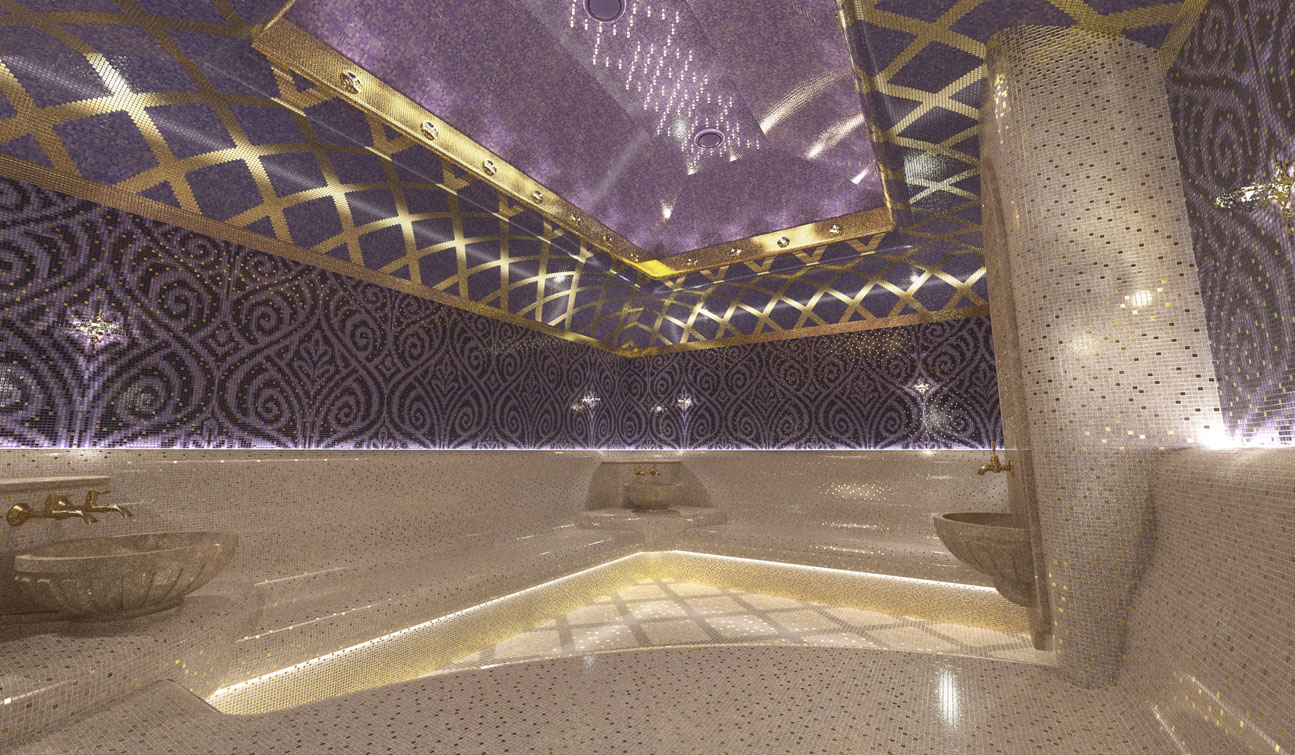 Eventually, the combination of the natural textures and oriental drawings differing in high uniqueness and oriental ornaments gives the chance of balancing complex multi-color coverings. One of the highly involved elements of a bath known in Ancient Rome, the stone bowl or the 'kurna', set in the corners of seats and on the wall and equipped with water taps for refreshing the body. The oriental mosaic with delicate patterns has become the highlight of the interior. Here we can find a solid example of the traditional oriental luxury with modern technology, meeting for the sake of better comfort. The Hammam interior is always comparable to the work of art that gives owners the aesthetic and sensual pleasure.
Author of the project - architect, interior designer Victor Kucherenko.